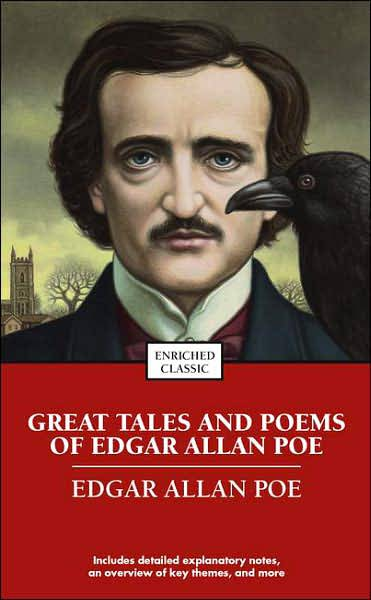 WAUKESHA PUBLIC LIBRARY ONE OF 77 ORGANIZATIONS NATIONWIDE
TO RECEIVE A BIG READ GRANT
Waukesha to read and celebrate Great Tales and Poems of Edgar Allan Poe during Waukesha Reads – The Big Read
May 13, 2014—Waukesha, WI—Waukesha Public Library today announced that it has received a grant of $14,400 to host The Big Read in Waukesha. The Big Read is a program of the National Endowment for the Arts, designed to revitalize the role of reading in American culture by exposing citizens to great works of literature and encouraging them to read for pleasure. The Big Read is managed by Arts Midwest. Waukesha Public Library is one of 77 nonprofit organizations to receive a grant to host a Big Read project between September 2014 and June 2015. The Big Read in Waukesha will focus on The Great Tales and Poems of Edgar Allan Poe. Activities will take place from September 26 – November 2, 2014.
Grant Lynch, Executive Director of Waukesha Public Library, responds to news of the award, "We are delighted that the Waukesha Public Library has once again been recognized by the National Endowment for the Arts as a leader in community-based reading and literacy initiatives. Waukesha Reads – The Big Read is a far-reaching and impactful series that exemplifies many of our educational and cultural objectives, and the most recent federal grant award of over $14,400 will ensure a strong lineup of programs, book discussions and more for our community. I commend the Waukesha Reads team, led by Deputy Library Director Karol Kennedy, along with all of the many volunteers who work diligently to create a dynamic and beneficial series for 2014 that will undoubtedly be another major success!"
Everyone is invited to stop by the Library on Wednesday, May 21 from 6:00-7:30 p.m. to help celebrate this award, learn more about the selected title, enjoy a slice of cake and enter a drawing for a chance to win a copy of the book. Ten lucky winners will be able to get a head start on their reading for this fall event!
NEA Acting Chairman Joan Shigekawa said, "While the act of reading is usually a solitary one, through the Big Read it will become a social one. This year's Big Read grant recipients are not only playing an important role in encouraging reading but are also developing creative opportunities to involve all members of their communities to come together to discuss and celebrate these great works on literature."
The Big Read provides communities nationwide with the opportunity to read, discuss, and celebrate one of 36 selections from U.S. and world literature. The 77 selected organizations will receive Big Read grants to promote and carry out community-based reading programs featuring activities such as read-a-thons, book discussions, lectures, movie screenings, and performing arts events. The NEA has also developed high-quality, free-of-charge educational materials to supplement each title, including reader's guides, teacher's guides, and audio programming, all of which are available to the public on neabigread.org.
For more information about The Big Read please visit neabigread.org.
It is the vision of Waukesha Public Library to be the community's best source for inspiration, ideas and information. The Library staff is committed to serving the public in a customer centered and pro-active manner, providing a wide variety of materials, resources, and services. For more information about the Library, please visit www.waukesha.lib.wi.us. For additional information about Waukesha Reads – The Big Read, please visit waukeshareads.org or find us on Facebook.
The National Endowment for the Arts was established by Congress in 1965 as an independent agency of the federal government. To date, the NEA has awarded more than $4 billion to support artistic excellence, creativity, and innovation for the benefit of individuals and communities. The NEA extends its work through partnerships with state arts agencies, local leaders, other federal agencies, and the philanthropic sector. To join the discussion on how art works, visit the NEA at arts.gov.
Arts Midwest promotes creativity, nurtures cultural leadership, and engages people in meaningful arts experiences, bringing vitality to Midwest communities and enriching people's lives. Based in Minneapolis, Arts Midwest connects the arts to audiences throughout the nine-state region of Illinois, Indiana, Iowa, Michigan, Minnesota, North Dakota, Ohio, South Dakota, and Wisconsin. One of six non-profit regional arts organizations in the United States, Arts Midwest's history spans more than 25 years. For more information, please visit artsmidwest.org.